Dada Giri is a Zee Bangla TV show which is very similar to KBC. This show is hosted by none other than popular cricketer Sourav Ganguly known as DADA (brother) in West Bengal.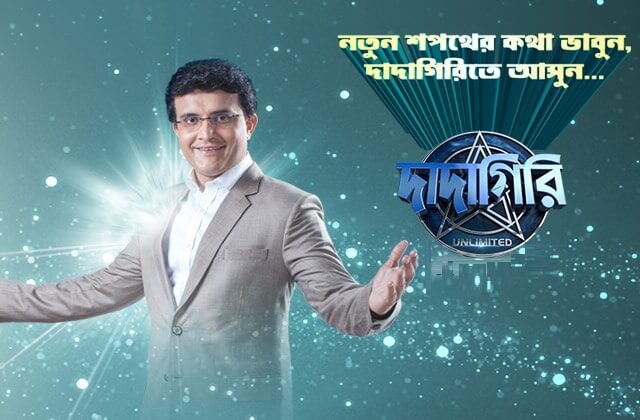 In this post, you are going to find out about Dadagiri Unlimited season 9 audition (dates, timings & locations), starting date, Dadagiri online registration 2021, and step by step process to fill out the form.
You have to take Oath (Sapath in Bengali) to help other people in rural areas like Sundarban etc.
In this post, we will show you how to register for DadaGiri Unlimited Season 9 Online and Offline.
Let's get started:
Dada Giri Unlimited Registration
This is divided into three steps.
Step 1: Like our facebook page so that you will get offline audition information as soon as possible.
Step 2: Register on the Zee media official page by downloading their app from the play store or by using the message box.
Step 3: you have to send an SMS to 57575. (The details will be updated soon.) Now after the registration, you have to go to the audition zone near your city. Dadagiri team always takes the audition all over West Bengal.
The audition will be held at a school or in a hall room, and you have to be prepared for this audition.
Dadagiri Audition Quiz Questions
This audition will be held in every major city of West Bengal like Medinipur, Kolkata, Durgapur, Siliguri, Birbhum, Barddhaman, etc.,
You have to bring your color photo with address proof like Aadhar card or voter id card and have to fill-up the form.
After that, selected candidates have to go through a quiz program, and the best will be chosen.
So if you want to participate then try to read more General Knowledge type questions because in this show your sense of humor will be tested and also make sure you are understanding Indian history along with GK.
Dada Giri Season 9 Auditon Dates
Here is the list of places where season 9 auditions are going on:
Medinipur
Location: Hotel Hindustan, Station Road, Keranitala, Medinipur Town.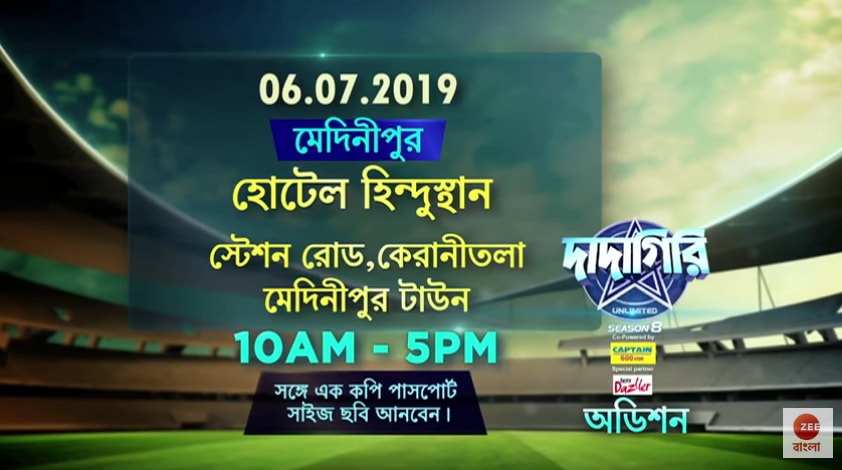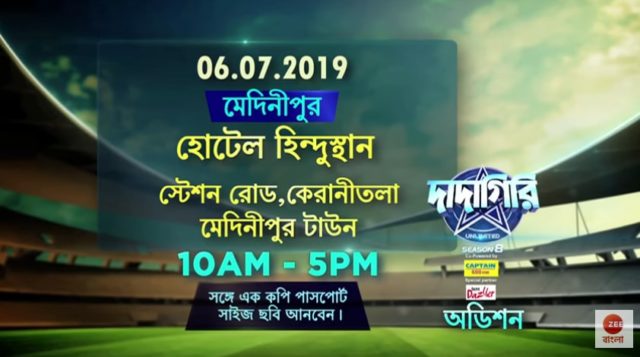 Date: 6th July 2019
Time: 10AM – 5PM
Baruipur
Location: Baruipur High School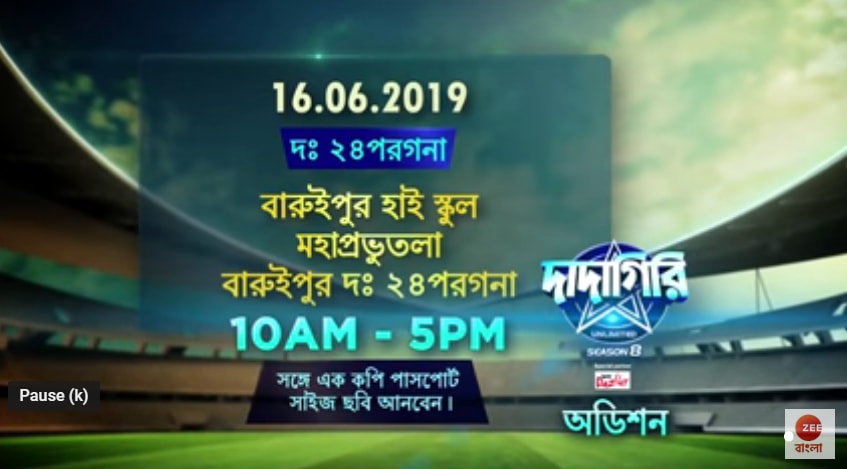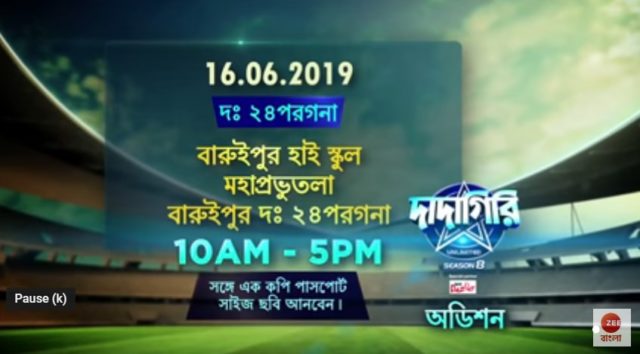 Date: 16th June 2019
Time: 10AM – 5AM
Dadagiri Unlimited Starting Date
Due to the COVID-19 pandemic, all the audition, registration of the Dadagiri Bengali TV show is postponed.
Other TV shows like Dance Bangla Dance, Didi No 1 details can be found here.