Vinod Agarwal is an Indian Devotional Singer, Writer and Businessman. He was one of the famous Krishna Sankirtan Samrat. He died today 6th November 2018. Checkout more about Vinod Agarwal wiki age girlfriend weight height family biography profile details here.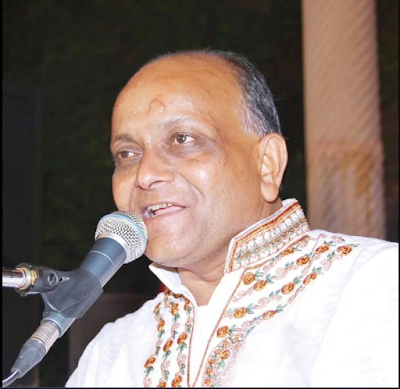 Vinod Agarwal
Wiki/Biography
Vinod Agarwal was born on 6th June 1955 (age was 63 years) in Delhi, India. He was born to Kishan Das and Ratni Devi. He is married to Kusum Lata Agarwal and has one son- Jatin Agarwal and daughter- Shikha Agarwal (married).
According to media reports he died on 6th November 2018 in Nayati Hospital, Mathura. His death cause is multiple organ failure.
Physical Appearance
Before death, when he was fit he is 5ft 6inches tall and weighs over 65kg. His caste is Vaishya (Bania).
School & Career
He was completed his early education from Delhi. He showed interest in spirituality and was a singer.
He is special known as "Sankirtan Samrat" because of his Krishna bhajans. He moved to Mathura for Krishna Sankirtan.
He died on 6th November 2018. Here is a video about his death news:
Facts:
Vinod was born into a Krishna devotee family who shifted from Delhi to Mumbai when he was 7 years old.
Since his childhood, he was spiritual and used to sing bhajans. When he turned 12 years old, he achieved proficiency in playing the harmonium.
He was just 20 years old when he got married who throughout his life accompanied him for his devotional programs.
In 1978, he started performing bhajans "Hari Naam Sankirtan" every Sunday morning at the office of his brother.
In 1979 he took Diksha from his Spiritual Guru, Late Shri Mukund Hari Ji Maharaj of Bhatinda, Punjab, whom Vinod credited for his divine singing and melodies.
Vinod Agarwal's spiritual guru – Gurudev Shri Mukund Hari Ji Maharaj
Since 1993, he used to perform at the devotional program without charging any fees; as ordered by his spiritual guru.
Apart from singing, he was a proficient writer in Hindi, Urdu, and Punjabi.
During the course of his life, he performed more than 1500 live programmes, both in India and abroad.
Thank you for reading this biography on CeleNote. You can read other biographies and TV shows from here.