M. J. Akbar is an Indian politician and served as the Minister of State for External Affairs until 17 October, 2018 when he had to step down due to a number of sexual misconduct allegations against him from numerous women who had worked with him over the years. Check out
M.J. Akbar Wiki
, Age, Wife, Height, Weight, Girlfriend, Caste, Family, Biography details here.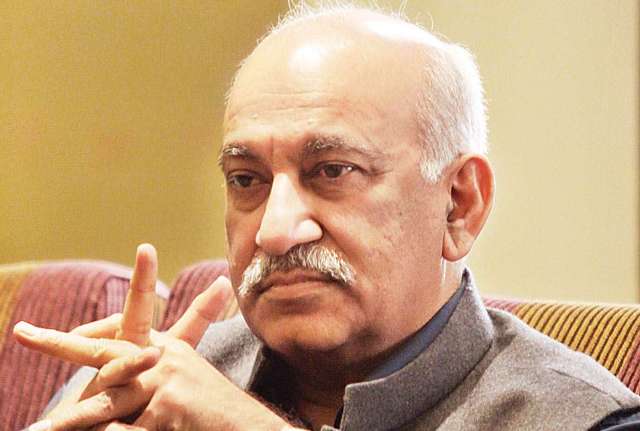 M. J. Akbar
Wiki/Biography
Mobashar Jawed "M.J." Akbar was born on 11th January 1951 (age 67years). He was born to Shri Sheikh Akbar Ali and Shrimati Imtiaz Akbar in a Muslim family in Telinipara, West Bengal. He has only one sister, Gazala Akbar Sharma.
In 1975, he married to Mallika Joseph Akbar. He has one son, Prayaag Jawad Akbar and one daughter, Mukulika who has studied law from Jesus College, Cambridge University, England.
Physical Appearance
M.J. Akbar is 5ft 5inches tall with 68kg weighs. He belongs to a Muslim family.
School & Career
Akbar attended Calcutta Boys' School and later, he joined Presidency College, Calcutta in 1967 where he studied BA (Hons.) in English. In 1971, he joined "The Times of India" as an Intern. After sometimes, he moved to The Illustrated Weekly of India and remained there until 1973. In 1976, he joined the Ananda Bazar Patrika (ABP) Group as an editor of The Sunday weekly. After the success of The Sunday, he launched India's first modern newspaper, The Telegraph.
In 1989, he took a brief detour into politics with his election to the Indian Parliament in November 1989 from Kishanganj in Bihar on a Congress ticket. In 2005, he was appointed by the King Abdullah of Saudi Arabia as a member of the committee to draft a ten-year charter for Muslim nations on the behalf of the Organisation of Islamic Cooperation.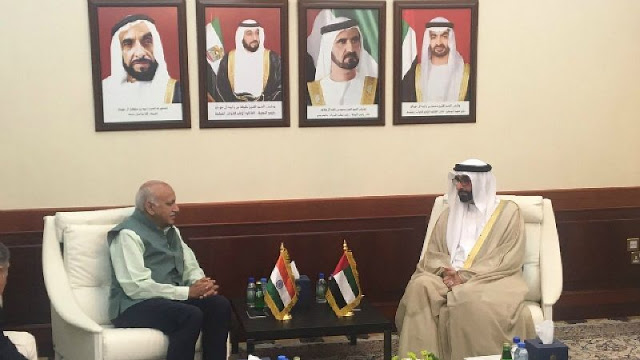 MJ Akbar with senior UAE minister
In 2014, Akbar joined the Bharatiya Janata Party (BJP) as a national spokesperson of the party. In July 2015, he was elected to Rajya Sabha from Jharkhand. On 5 July 2016, he was sworn in as Minister of State for External Affairs by PM Narendra Modi.
As a Writer:
He has written several non-fiction books, including a biography of Jawaharlal Nehru titled Nehru: The Making of India, a book on Kashmir titled Kashmir Behind the Vale, Riot After Riot and India: The Siege Within. He also authored The Shade of Swords, a history of jihad.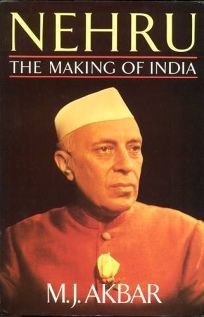 Nehru: The Making of India
Controversies:
In October 2018, several women accused Akbar of sexual harassment, a journalist named Priya Ramani alleged that when he was editor of a newspaper, The Asian Age, she was harassed by him in a hotel room. In her allegation, she said that she was made to feel uncomfortable. Another journalist Ghazala Wahab has also accused him of sexual assault.
According to her, "He called me in his cabin. I knocked and entered. He was standing next to the door and before I could react, he shut the door, trapping me between his body and the door. I instinctively flinched and he held me and bent to kiss me. With my mouth clamped shut and I struggled to turn my face to one side." On 17 October 2018, he resigned from the post of Union Minister of State for External Affairs; as a consequence of various sexual harassment allegations against him.
Facts:
Akbar was the spokesperson of late former Prime Minister of India, Rajiv Gandhi.
He has also worked as an editor-in-chief of "The Deccan Chronicle" a Hyderabad based newspaper.
He has penned down as many as 10 books by now.
Thank you for reading this biography on CeleNote. You can read other biographies and TV shows from here.