Urjit Patel is an Indian economist, who served as 24th Governor of Reserve Bank of India. He resign from his post and made it to the news headline. Learn more about Urjit Patel's wiki wife family son daughter biography details here.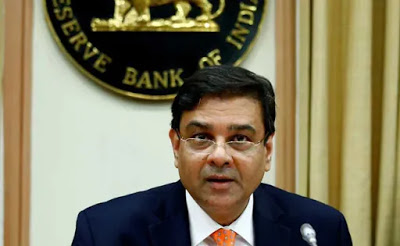 Urjit Patel
Wiki/Biography
Urjit Patel was born on 28th September 1963 in Nairobi, Kenya. He was born to Ravindra Patel and Manjula Patel who lives in Kenya and run Raxo Products Ltd, a chemical factory in Nairobi.
As per reports he is married with no children. Urjit Patel's wife name is unknown.
Physical Appearance
Urjit Patel is around 5ft 10inches tall and weighs over 76Kg. He has black colour eyes and hair. His zodiac sign is Scorpio.
School & Career
From his childhood days he is a brilliant student. He did his schooling from Visa Oswal Primary School, Nirobi, Kenya.
He completed BA from London School of Economics, London & M. Phil. from University of Oxford, England. He holds Doctorate in Economics from Yale University, Connecticut, USA.
He was at IMF India desk during the 1991–94 transition period. He was posted to IMF country mission in India 1992–95. He has also been a non-resident Senior Fellow at the Brookings Institution since 2009.
Thereafter he went on deputation from the IMF to the Reserve Bank of India. After the two-year deputation with RBI, he became a Consultant to the Government of India in the Ministry of Finance from 1998 to 2001.
On 20 August 2016, he was appointed as the governor of Reserve Bank Of India (RBI) succeeding Raghuram Rajan.
During his tenure, the Government of India demonetised the Rs. 500 and Rs. 1000 banknotes of the Mahatma Gandhi Series, with the stated intention of curbing corruption, black money, fake currency and terrorism from 9 November 2016.
On 10 December 2018 at 17:15 hrs IST, Urjit Patel resigned from the post of Governer from The Reserve Bank of India (RBI) effective immediately. He is also the first RBI governor to resign from his post before 2019 elections.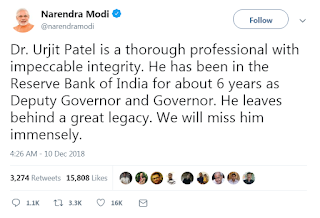 Narendra Modi Tweeted about Urjit Patel
Facts:
His grandfather migrated to Kenya from Gujarat in the early 20th century.
He learned Gujarati and Hindi only after his posting in India.
In 2013, he was appointed as Deputy Governor of the RBI and headed a committee on Monetary Policy Reform.
On 4 September 2016, he became the 24th Governor of the Reserve Bank of India (RBI).
He has a very small circle of friends and is considered as a "jolly fellow."
He lives with his mother in a small apartment in Mumbai.
According to sources, earlier, he had declined an offer to head the BRICS bank in Shanghai.
On 10 December 2018, he quit as RBI Governor amid a feud with the Central Government. He stepped down from the post; citing personal reasons. In his letter, he wrote:
On account of personal reasons, I have decided to step down from my current position effective immediately."