Muthuvel Karunanidhi
is an Indian Politician, Screenwriter, Editor, Publisher and the 3rd Chief Minister of Tamil Nadu. He has served as the Chief Minister of Tamil Nadu for five times on different occasions. Checkout
M. Karunanidhi Wiki
Age Wife Family Caste Death Cause Politics & Biography details on CeleNote.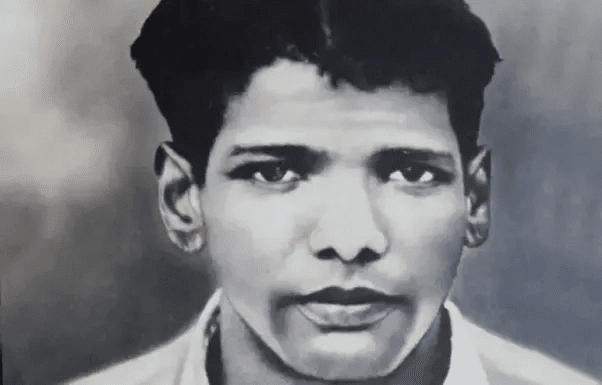 M. Karunanidhi Wiki/Biography
Karunanidhi was born on 03 June 1924 (age was 94 years before death)in Thirukkuvalai, Nagapattinam in the state of Tamil Nadu, India. He is the son of Muthuvelar Karunanidhi and Anjugam Karunanidhi. His Real name is Dakshinamurthy.
He is married to Padmavathi Ammal and has 6 childrens M. K. Muthu, M. K. Alagiri, M. K. Stalin, M. K. Tamilarasu, M. K. Selvi and M. K. Kanimozhi.
M. Karunanidhi Career
Karunanidhi began his career as a screenwriter in the Tamil film industry. He made his debut in the film Rajakumari in which he wrote the script back in 1947, the film gained him popularity and he decided to continue his career in the field. Later, he was inspired by the speech of Alagiriswami of the Justice Party and step into the politics at his 14th age and participated in Anti-Hindu agitations.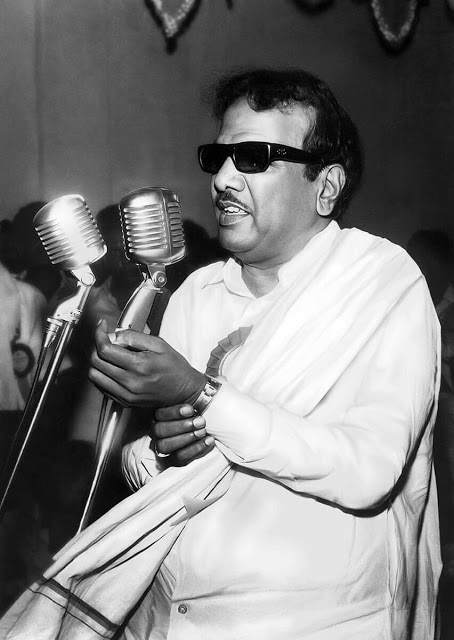 He used Tamil cinema to propagate his political ideas through the movie
Parasakthi
.
In 1957, M. Karunanidhi was first elected to the Tamil Nadu legislative assembly from Kulithalai seat of Tiruchirapalli district. He became the
DMK treasurer in 1961
and the very next year, he became the
deputy leader of opposition
in the state assembly.
When
his party DMK came to power in 1967
, he became the minister for public works. After the death of
C.N. Annadurai
in 1969,
Karunanidhi became the Chief Minister of Tamil Nadu
. He has served in various positions in the party and government during his long career in Tamil Nadu politics.
M. Karunanidhi Dead or Alive? Health Report Death Cause?
As per the report of TOI, "Kauvery hospital executive director Dr Aravindan Selvaraj says the health condition of DMK chief M Karunanidhi continues to remain stable with ongoing medical support. He is continuously being monitored and treated by the panel of experts in ICU."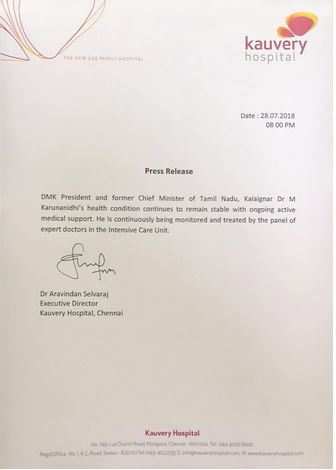 Karunanidhi was died on
7th August 2018
at
Kauveri Hospital
, Tamil Nadu, Chennai. He was a great leader and will be in our memory for a long time. May his soul rest in peace.
M. Karunanidhi Films
At the age of 20, Karunanidhi went to work for Jupiter Pictures as a scriptwriter. His first film, Rajakumaari, gained him much popularity. It was here that his skills as a scriptwriter were honed, which extended to several films.
Ponnar Shankar (2011)
Ilaignan (2011)
Pen Singam (2010)
Uliyin Osai (2008)
Pasa Kiligal (2006)
Kannamma (2005)
Mannin Maindhan (2005)
Puthiya Parasakthi (1996)
Madurai Meenakshi (1993)
Kavalukku Kettikaran (1990)
Nyaya Tharasu (1989)
Paasa Paravaigal (1988)
Paadatha Thenikkal (1988)
Neethikku Thandanai (1987)
Palaivana Rojakkal (1985)
Kaalam Pathil Sollum (1980)
Pillaiyo Pillai (1972)
Avan Pithana? (1966)
Poomalai (1965)
Poompuhar (1964)
Kaanchi Thalaivan (1963)
Iruvar Ullam (1963)
Thayilla Pillai (1961)
Arasilangkumari (1961)
Kuravanji (1960)
Pudhumai Pithan (1957)
Pudhaiyal (1957)
Raja Rani (1956)
Rangoon Radha (1956)
Malaikkallan (1954)
Thirumbi Paar (1953)
Panam (1952)
Manohara (1952)
Manamagal (1952)
Parasakthi (1952)
Manthiri Kumari (1950)
Marudhanaattu Ilavarasi (1950)
Abimanyu (1948)
Rajakumaari (1947)
Thank you for reading this biography on CeleNote. You can read other biographies and TV shows from here.